PETER GITAU
Peter Gitau is a research student at KENWEB whose career focus is to understand how ecosystems respond amid anthropogenic, regional and global climatic driven phenomena. This is with the aim to contribute towards better management and conservation of these ecosystems for healthy communities and wildlife.
Currently, he is a PhD research student in the faculty of Geography (Man and Nature- Ecology and evolution) at the Muséum National d'Histoire Naturelle- Alliance Sorbonne University, Paris, France.. His study is focused on using Sedimentary and Paleo-ecological analysis as a contribution to understanding the hydro-ecological and anthropogenic changes in the Tana River Delta, Kenya.
He has a Master of Science (MSc) focused in Ecology from Vrije Universiteit Brussel, and a Bachelors (BSc) in Environmental Conservation and Natural Resource Management from the University of Nairobi. He is also passionate about scientific communication of research to non scientific groups through comics, photography and videography.

                                                           DAVID OUMA
David has a BSc. in Wildlife Ecology and Management (Chuka University) and MSc. Biology of Conservation (University of Nairobi, 2020). Over the last six years he has worked and gained experience and skills spanning freshwater, marine, and coastal ecosystems. Part of this experience has been in research, working in community-managed conservation areas applying various area-based management tools and in project management.
He is a researcher with the Kenya Wetlands Biodiversity Research Team at the National Museums of Kenya and is currently serving as a UN Volunteer based at UNEP Headquarters in Nairobi supporting implementation of a partnership project for marine and coastal governance and fisheries management for sustainable blue growth in the Western Indian Ocean region. David has previously worked as a Fisheries Specialist Intern with The Nature Conservancy in Mombasa.
David is interested in sustainability science and his current focus is on understanding how policies impact the achievement of conservation goals while taking livelihoods into account.
Email: This email address is being protected from spambots. You need JavaScript enabled to view it.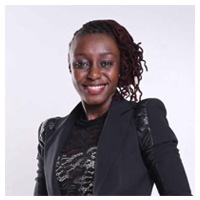 CHRISTINE MBURU
Christine is a practicing Environmental Impact Assessment and Audit Expert, conversant with different approaches for environmental management and community development. Has worked on various multi-institutional projects involving research partnerships with government, civil society, and private organizations. She holds an MSc. in Limnology and Wetland Management jointly from Egerton University, Kenya; BOKU University, Austria; UNESCO-IHE Institute of Water Education, Netherlands, and a BSc. in Environmental Conservation and Natural Resource Management from The University of Nairobi.
She has demonstrable experience in applying multipronged tools and methods for socio-ecological surveys and development project review. She is adept at communicating, with project results published in peer reviewed journals, books, magazines and social media platforms. She possesses good capacity for observing and mediating social and political processes; collaboration and approaching operational issues. Her aim is to advance in knowledge and understanding of the conflicting relationships between economic development and natural resource dependency in Africa, and to examine approaches for their resolution

                                                           JOYLENE KANYARI
Joylene Kanyaris is a Research Scientist at the National Museums of Kenya at the Wetlands and Marine Programme, Center for Biodiversity Department. She graduated with a Bachelor of Science (Botany) at University of Eldoret in 2013. She received VLIRUOS Scholarship in 2014 to pursue a Master of Biology at Vrije Universiteit Brussels, Belgium which she completed in 2016. Joylene was employed at the National Museums of Kenya in 2018 at the Center for Biodiversity under the Wetlands and Marine Programme.
Research Interest
Joylene has a great interest in aquatic ecology with a particular interest in Taxonomy/systematics of micro-algae, using micro-invertebrates (Phytoplankton and Zooplanktons) community for assessment and monitoring of aquatic ecosystems, use of aquatic micro-invertebrates as indicators for monitoring and assessment of wetland ecosystems; investigating major determinants of micro-invertebrate community structure in wetlands; investigating the use of aquatic micro-invertebrates as diagnostic indicators of particular causes of ecosystem impairment in wetlands.
Email:  This email address is being protected from spambots. You need JavaScript enabled to view it. / This email address is being protected from spambots. You need JavaScript enabled to view it.

                                      KASHIM OGINGA
Otieno Kashim Oginga has a Master's degree in Biodiversity and Natural Resources Management from the University of University, 2020. He also holds a bachelor's degree in Environmental science from Kenyatta University.
Since 2016, Kashim has been a volunteer at the National Museums of Kenya, Zoology department- Ichthyology Section and working as a research fellow at Kenya Wetlands Biodiversity Research team.
My key research interest is aquatics conservation, focusing on freshwater fishes and aquaculture

                                                           WINNIE AWUOR
Winnie is a trainer and the head of fisheries and Aquatic Sciences section, at Siaya institute of Technology. She is also a member of Kenya Wetlands Biodiversity Research Team, KENWEB, and National Youth Guiding and Counselling Association of Kenya. Winnie is a registered Environmental Impact Assessment Expert under the National Environment Management Authority, NEMA.
Winnie attended the University of Nairobi from the year 2012 to 2016 and graduated with a first class honours degree in Environmental Conservation and Natural Resource Management. She received a scholarship to pursue a master's degree in Fisheries Resource Management at the University of Nairobi and graduated in 2020. Winnie has also started her PhD in Applied Environmental Sciences at the Tokyo University of Marine Sciences and Technology. So far, she has published two articles on microplastics at the African Journal of Marine Science and the Western Indian Ocean of Marine Sciences Association.
Winnie has worked as an intern at the National Environment Management Authority, NEMA, and the National Museums of Kenya where she gathered relevant skills aimed at career progression as well as improving her employability. She's a disciplined, respectful hardworking, self-driven individual with a strong passion in marine conservation and Management. She enjoys watching wildlife documentaries, playing table tennis and networking.

                           HESBORN NYAMBATI
Hesborn Moogi Nyambati is a senior Animal Health Assistant at the National Museums of Kenya at the Nairobi Snake Park and Aquarium, Nairobi National Museum Department. He completed his Diploma course in Applied Biology from The Technical University of Mombasa in 2011. Hesborn was employed at the National Museums of Kenya in 2017 at the aquarium section of the Nairobi Snake Park to help maintain live fish on exhibition. He is also the current chairperson of the Nature Kenya Youth Committee which is mandated to champion awareness towards conservation of different species within the country.
Interest
Hesborn has a great interest in aquatic biology with a particular interest in fish. He also has a keen interest in conservation of different organisms.
Email:  This email address is being protected from spambots. You need JavaScript enabled to view it. or This email address is being protected from spambots. You need JavaScript enabled to view it.